The Box Office Reloaded
This appeared in November 2003 for a now-defunct 'men's lifestyle' magazine (like Maxim but with fewer readers). My editor's chief concern was that the mag's readership of trend-setting 20- to 30-somethings wouldn't be interested unless I hammered home how big a business video games had become. He also did not want a 'breezy, research-lite' article typical of certain men's lifestyle mags at the time.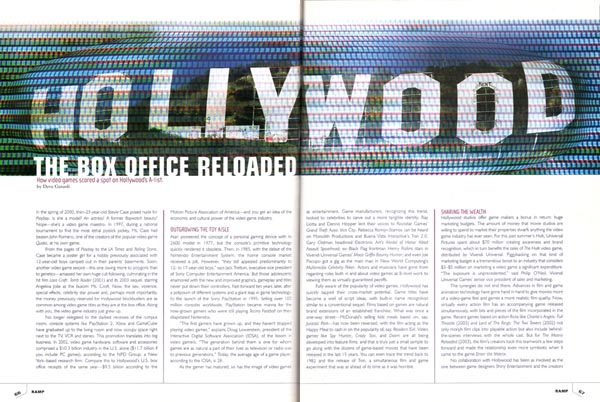 HED: The Box Office Reloaded
DEK: How video games scored a spot on Hollywood's A-list.
by Dave Gerardi
In the spring of 2000, then-23-year-old Stevie Case posed nude for Playboy. Is she a model? An actress? A former Baywatch beauty? Nope--she's a video game master. During a national tournament in 1997 to find the most lethal joystick jockey, Ms. Case beat John Romero, one of the creators of Quake, at his own game.
From the pages of Playboy to the LA Times and Rolling Stone, Case became a poster girl for a hobby previously associated with 12-year-old boys camped out in their parents' basements. It wasn't long before another video game sexpot--this one owing more to polygons than to genetics--amassed her own mass following, culminating in the hit film Lara Croft: Tomb Raider (2001) and its 2003 sequel, starring Angelina Jolie as the buxom Ms. Croft. Today, the sex, violence, special effects, celebrity star power, and, perhaps most importantly, the money previously reserved for Hollywood blockbusters are as common among video game titles as they are at the box office. The video game industry just grew up.
No longer relegated to the darkest recesses of the rumpus room, console systems like PlayStation 2, Xbox and GameCube have graduated up to the living room and now occupy space right next to the stereo and DVD player. This change translates into big business. In 2002, video game hardware, software and accessories comprised a $10.3 billion industry in the United States alone ($11.7 billion if you include PC games), according to the NPD Group, a New York-based research firm. Compare this to Hollywood's U.S. box office receipts of the same year--$9.5 billion according to the Motion Picture Association of America--and you get an idea of the economic and cultural power of the video game industry.
SUBHED: Outgrowing the toy aisle
Atari pioneered the concept of a personal gaming device with its 2600 model in 1977, but the console's primitive technology quickly rendered it obsolete. With the debut of the Nintendo Entertainment System in 1985, the home console market received a jolt. But, caveats Jack Tretton, executive vice president of Sony Computer Entertainment America, "they still appealed predominantly to 12- to 17-year-old boys." Those adolescents enamored with Nintendo's graphics and gameplay, however, never put down their controllers. Fast-forward 10 years later, after a potpourri of different systems and a giant leap in game technology, to the launch of the Sony PlayStation in 1995. Selling over 100 million consoles worldwide, PlayStation became manna for the now-grown gamers who were still playing Tecmo Football on their dilapidated Nintendos.
"The first gamers have grown up, and they haven't stopped playing video games," explains Doug Lowenstein, president of the Interactive Digital Software Association (IDSA), of the boom in video gamers. "The generation behind them is one for whom games are as natural a part of their lives as television or radio was to previous generations." Today, the average age of a game player, according to the IDSA, is 28.
As the gamer has matured, so has the image of video games as entertainment. Game manufacturers, recognizing this trend, looked to celebrities to carve out a more tangible identity. Ray Liotta and Dennis Hopper lent their voices to Rockstar Games' Grand Theft Auto: Vice City. Rebecca Romijn-Stamos can be heard on Monolith Productions and Buena Vista Interactive's Tron 2.0. Gary Oldman headlined Electronic Arts' Medal of Honor: Allied Assault Spearhead; ex-Black Flag frontman Henry Rollins stars in Vivendi Universal Games' Mace Griffin Bounty Hunter; and even Joe Piscopo got a gig as the main man in New World Computing's Multimedia Celebrity Poker. Actors and musicians have gone from regarding roles both in and about video games as B-level work to viewing them as part of their diversified portfolio of mainstream credits.
Fully aware of the popularity of video games, Hollywood has quickly tapped their cross-market potential. Game titles have become a well of script ideas, with built-in name recognition similar to a conventional movie sequel. Films based on games are natural brand extensions of an established franchise. What was once a one-way street--McDonald's selling kids meals based on, say, Jurassic Park --has now been reversed, with the film acting as the Happy Meal to cash in on the popularity of, say, Resident Evil. Video games like Doom, Spy Hunter and Crazy Taxi are all being developed into feature films, and that is truly just a small sample to go along with the dozens of game-base movies that have been released in the last 15 years. You can even trace the trend back to 1982 and the release of Tron, a simultaneous film and game experiment that was as ahead of its time as it was horrible.
SUBHED: Sharing the wealth
A deal with a Hollywood studio offers game makers a bonus: a huge marketing budget. The amount of money that movie studios are willing to spend to market their properties dwarfs anything the video game industry has ever seen. For this past summer's Hulk, Universal Pictures spent about $70 million creating awareness and brand recognition, which in turn benefits the sales of The Hulk video game, distributed by Vivendi Universal. Piggybacking on that kind of marketing budget is a tremendous boost to an industry that considers $3 to 5 million on marketing a video game a significant expenditure. "The exposure is unprecedented," says Philip O'Neil, Vivendi Universal Games' senior vice president of sales and marketing.
The synergies do not end there. Advances in film and game animation technology have gone hand in hand to give movies more of a video game 'feel' and games a more realistic film quality. Now, virtually every action film has an accompanying game released simultaneously, with bits and pieces of the film incorporated in the game. Recent games based on action flicks like Charlie's Angels: Full Throttle (2003) and Lord of the Rings: The Two Towers (2002) not only morph film clips into playable action but also include behind-the-scenes interviews with the whole cast. For The Matrix Reloaded (2003), the film's creators took this teamwork a few steps forward and made the relationship even more symbiotic when it came to the game Enter the Matrix.
No collaboration with Hollywood has been as involved as the one between game designers Shiny Entertainment and the creators of the Matrix trilogy, Andy and Larry Wachowski. When the Wachowski brothers offered Shiny founder Dave Perry the chance to make a Matrix game, Perry simply hoped they would provide a clip of movie footage. Instead, "the Wachowski brothers decided they wanted to work on the game personally and had already been working on the design," says Perry. The entire cast and crew of the movie threw their weight behind the game. It didn't surprise Perry that the motion-capture technology used for The Matrix Reloaded would be the most advanced ever for a film. "Our industry would never spend that kind of money to capture human motion, but Hollywood does," he says. The brothers went even further when they offered Perry use of the film sequel's sets. "The actors would shoot a scene for the movie, then they'd come out and act out a scene for the video game," Perry explains.
The partnership was a true gold mine for Perry. Production designer Owen Paterson sent him blueprints and AutoCAD (an architectural design program) files of the movie sets. Perry's team would often be able to run round the set in the video game before it had even been built. In one case, the game designers added a door at the top of a flight of stairs. "They actually adjusted the design of the movie set to be compatible with the video game. That has never happened before," says Perry. No detail was too small in marrying the two media. Warner Bros. even sent swatches of materials used in the film for Shiny to replicate in its electronic world.
SUBHED: Pixels and popcorn
Films create a passive experience. Audiences sit back and watch the story the director wants them to see. In games, you control the action. "You get to make choices," explains David Hufford, a group Xbox product manager at Microsoft. "It's the difference between storytelling and story playing." The challenge for Enter the Matrix was how to marry the two. Perry and the Wachowskis answered by intertwining the story lines.
Individually, the movie and the game can stand alone, each providing the participant with a complete experience. But participating in both adds levels of complexity to the overall experience. "In the movie, the Wachowskis are limited to two hours of storytelling," Perry says. But combined with the narrative possibilities of the video game, the potential story lines have few limits. According to Perry, the existence of objects that appear to be randomly placed in a movie sequence can be explained with detailed back stories in the game. "This way, through mixed media, they can give people a huge experience," he adds.
With continued collaboration between the movie and video game industries, the boundaries of that experience are seemingly endless. The convergence has already begun. In the battle for the consumer's entertainment dollars, the question, 'Who will win?' is moot. Everyone's on the same side, and it looks like boredom is getting its ass kicked.
SIDEBAR 1
HED: Video killed the radio star
DEK: The hottest musical acts get a boost from games.
Steve Schnur is in a meeting with a national group of radio programmers, the behind-the-scenes folks who choose which tracks get played and which don't. The radio guys are pressing Schnur on what's going to be the latest and hippest in music. You see, Schnur is Worldwide Executive of Music and Audio Creative Vice President at video game manufacturer Electronic Arts, and he's about to reveal EA's lineup of tracks included in Madden 2004, NBA Live 2004 and SSX 3. And the next number one hit is as likely to come from a video game soundtrack as it is from a traditional album.
Recording artists are increasingly using video games to make a splash in the ever shrinking pool of pop radio. "It's amazing. We've come from bleeps and blips...to songs on the radio a year ago, and now the new Queens of the Stone Age song before it even gets to radio," Schnur says excitedly. Queens of the Stone Age may be a veteran act, but putting its track "No One Knows" on NHL 2003 was as crucial for its mainstream success as recruiting Foo Fighter Dave Grohl for its Songs for the Deaf record.
"(Hip-hop artist) Fabolous debuted number three on the Billboard Top 200 chart (in March), and (his label) Elektra is the first to admit that through NBA Live 2003, we had a tremendous amount to do with it," boasts Schnur. The use of new music in games has also garnered exposure for other artists, including Nappy Roots and Good Charlotte (both in Madden 2003). "We take a lot of pride in that," Schnur adds.
One of the reasons that these bands have reaped so much from the games is that EA puts the band's name and track title on the screen during the game--just like a music video. "We created the video game space as a forum where you can buy the new Madden 2004 and discover 10 to 12 great new bands that will define what the year 2004 is going to sound like," says Schnur.
To bring in big talent on a game, it helps that a lot of musicians have grown up playing them. When Schnur was hired at EA, the company had an internal audio guy do the beats for NBA Live --and it sounded like an internal audio buy doing the beats. So Schnur brought in hip-hop producer Just Blaze, a guy who has six or more PS2 players in his car.
In-between gigs, the members of Saliva jam on EA's Tiger Woods, and they jumped at the chance to get the lead song on the game's soundtrack last year. Their "addiction" is shared by many other artists. "It's like recess, know what I mean?" says hip-hopper N.O.R.E. "You're in the studio making your songs, and you can't think for a minute. (So) you play a video game and go right back in the studio." N.O.R.E., Redman and 10 other DefJam artists contributed tracks and their voices for EA's DefJam Vendetta, a fighting game set in the hardcore underground circuit.
"We wanted to do more than just have music inside a game," says DefJam president Kevin Liles. "We wanted a game that gamers will love."
The link between video games and music isn't relegated to background tunes--some new games are devoted solely to music. Sony's Amplitude features tracks from Blink 182 and Garbage. Players beat-match and build songs from scratch, adding drums, bass, guitars and vocals. David Bowie, who also has a track on the game, called it "completely addicting."
But the real appeal of video games for musicians may be the potential audience their music can reach. PlayStation 2, the industry leader, has a worldwide installed base of 50 million units (20 million in North America). Sony VP Jack Tretton predicts it will reach 70 million (30 million in North America) by spring 2004. "If your track gets on one of the more popular games, you're potentially appealing to 50 million consumers worldwide," Tretton says. "That's huge."
SIDEBAR 2
HED: Ghost in the Machine
Aussie actor Anthony Wong talks about his role as the Zen Buddhist assassin Ghost in The Matrix Reloaded, The Matrix Revolutions and the Enter the Matrix video game.
Q: What's the difference between acting on a movie set and doing voice-overs for video games?
Wong: On a movie set, it's so much easier to believe in the imaginary circumstances of the story. There are other actors doing the scene with you, so you react off them. In a voice-over studio, you're working in a completely artificial and sterile environment. You have to stand in front of a microphone and say a line of dialog over and over again until you get it right...You have to conjure up the appropriate emotions from nothing. It can be an exremely tedious and technical--rather than creative--process.
Q: What is it like to be a part of the Matrix?
Wong: It is an absolute honor to be involved with a project that has such a passionate following and fuses riveting storytelling with some very profound philosophical ideas. By conveying the story using many media (film, game and anime), the Matrix is revolutionizing the way stories are told.
Q: Is it difficult to work with green screens?
Wong: I didn't have to do much green-screen work on Matrix. But I did do a lot of motion-capture. That's where the actors have to wear those tight-fitting Lycra suits covered in light-reflecting balls. The animation team records your movements and gestures so that they can later turn this data into the animated Ghost and Niobe. Only problem is: Those motion-capture suits are pretty fucking tight, and they aren't too forgiving to the old crown jewels! It was a miracle I didn't do all my scenes in a falsetto!
SIDEBAR 3
HED: Games to movies
DEK: These game titles, all in some stage of film production, may soon be at a theater near you.
Crazy Taxi - Reportedly to become a PG version of the wild cab game.
Deus Ex - Laura Ziskin produced Spider-Man (2002) and is looking to work her magic with this groundbreaking Eidos title.
Devil May Cry - Slated for a 2006 release, this production sports a not-so-modest $40 million budget.
DOA - There will be hot women and yes, it will take place on a beach, but it is reported to be PG-13.
Doom - Warner Bros. holds the rights to this ultra-violent property.
Driver - The director of Resident Evi l (2002), Paul W.S. Anderson, is attached to the project.
The Getaway - The London underbelly may finally get its due.
House of the Dead - Zombies versus ravers. At last!
MechWarrior - Dean Devlin, the producer of Independence Day and Godzilla, is on board.
Metroid - A Nintendo property that, unlike Super Mario Bros. , has some bite.
Pac-Man - Plans for a live-action adventure? Good luck with that one.
Soul Calibur - The only fight game with any sort of real story line.
Resident Evil: Nemesis - Milla Jovovich is slated for the sequel.
Spy Hunter - The Rock signed on to star. The car turns into a boat, so that'll be worth the 10 bucks.