Pixel properties
This appeared in April 2001 for the toy industry trade publication Playthings. People have told me that trade magazines are a drag, but I kinda liked articles like this that investigated industry-changing trends. Plus I use 'surfeit' in a sentence and that's gotta count for something. I put the sidebar first because the main story is filled with product mentions (which are necessary for a trade mag but make for poor reading to non-industry folks). Keep in mind that, at the time, the idea of selling directly on the web was a radical one. Now it seems almost quaint.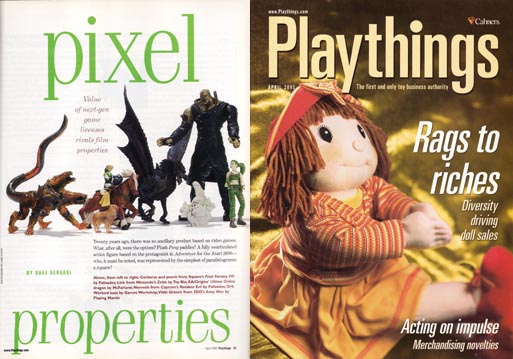 SIDEBAR
HED: From thickband to broadband
by Dave Gerardi
Several years from now, an in-store video game section may be unnecessary.
Retailers will offer the latest Mario Brothers title online, or the publisher will peddle their wares direct to consumers via their own sites.
With the number of broadband customers expected to approach 30 million by 2004, the number of games exclusively available online will no doubt see a surge.
Jeff Brown cautions against thinking about online gaming as if it exists in a viable form only in the distant future. "It's here, and the numbers are big enough to make TV execs sweat," says Electronic Arts' vice president of corporate communications.
Visitors will stay 10 to 20 minutes on a good, average Web site, says Jason Robar, games group program manager at Infospace, an Internet infrastructure provider. Game-related sites, however, see visitors spending 40 to 60 minutes. That stickiness is rivaled only by auction sites such as eBay. Cartoon Network, Discovery Channel and History Channel all use games to increase the stickiness of their sites.
Game publishers have been focusing on one of two business models. The first targets hardcore gamers with monthly subscription fees to participate in multi-player games. The subscription rate, Robar says, is sometimes supported through retail sales of a CD-ROM which can be played offline as well. Other sites prefer to target casual gamers with free, classic games such as chess, hearts and crosswords. These are supported by ads.
EA.com is mixing the two.
"People are willing to pay for premium content," says Tom Nichols, EA.com's director of marketing for the sports and worlds channels. EA/Origin's Ultima Online signed up 50,000 people in its first few weeks. RPGs, however, are more of a niche opportunity, Nichols says. He expects sports titles to build traffic to the site based on the popularity of fantasy sports on sites like ESPN.com.
Ultimately, games, Robar says, will quicken the consumers' adoption of new devices and concepts such as the e-commerce environment. Robar likes to think of the brick-and-mortar environment as 'thickband.' "Whether I'm getting the data from a CD-ROM (bought in a brick-and-mortar store) or from a DSL line makes no difference."
HED: Pixel Properties
DEK: Value of next-gen game licenses rivals film properties.
by Dave Gerardi
Twenty years ago, there was no ancillary product based on video games. What, after all, were the options? Plush Pong paddles? A fully unarticulated action figure based on the protagonist in Adventure for the Atari 2600--who, it must be noted, was represented by the simplest of parallelograms, a square?
No. It took Pac-Man to break through the merchandising barrier.
Now it's second nature.
From Burger King promos to high-end resin collectibles, video game licenses are hot properties. With a surfeit of game-based movies slated for release, the dual tie-in with figures is a no-brainer. Tomb Raider, Final Fantasy and Resident Evil will all, sooner or later, reach the screen. Even Shenmue, an unlikely movie not just based on the Sega game but completely generated on the Dreamcast, was recently released in Japan.
These films are a far cry from the Super Mario Brothers and Street Fighter films that sullied cinemas in the early 90s ("They didn't set the licensing world on fire," Todd McFarlane notes wryly). The new generation of game-based films are aimed at older audiences, have higher production values and will pave the way for future game-to-movie crossovers.
But should a game never reach the multiplex, its value as a license is, on average, slightly higher than a common movie property, industry execs say. "After the big first-weekend launch, a movie will either hit a home run or get shut out (at the box office, whereas) a video game can develop a life for itself," says Chuck Terceira, purchasing manager for Diamond Comic Distributors, which sells action figures, collectibles and comics to more than 4,000 stores worldwide. Terceira expects the upcoming Final Fantasy X figures to make an impact this year. Square's first nine games have sold in the neighborhood of 30 million units. The July 13 release of the Columbia Pictures film should give the figures an extended shelf life. Palisades will offer 12-inch figures and mini-busts, and Bandai will have 6-inch figures based on the first CGI film with photo real actors (the teaser shown at Toy Fair was stunning).
Palisades will roll out several lines of video-game-based figures this year. Four-inch Space Channel 5 (Sega) divas, 6.5- and 12-inch figures and vinyl and resin statues for Resident Evil (Capcom), a second House of the Dead (Sega) series this summer plus Final Fantasy IX (Square) and Mortal Kombat (Midway) figures out now demonstrate the value Palisades puts on video game licenses. "The shelf life for a video game figure is longer than that for a movie," says Palisades COO Matthew Conelius. "You have a small window (of opportunity) with a movie." If a film tanks, it tanks. But if a video game isn't an immediate hit, he adds, "it can steadily build a following."
Of course, manufacturers are picky as to which property to immortalize in figurehood. "Unless the game sells big numbers, figures are not worthwhile because of the cost of tools and prototypes," explains Blue Byte CEO and President Thomas Hertzler. Recently acquired by Ubi Soft, Blue Byte made figures based on its hit PC franchise, Settlers. Any game, in fact, that has developed into a franchise can be a profitable property. McFarlane Toys founder Todd McFarlane looks closely at sequels. Ultima Online (EA/Origin) figures are based on a game with a long history and proven marketplace presence. McFarlane took a chance on Konami's Metal Gear Solid, however, and it has paid off. "We got in on the ground floor with Metal Gear Solid," he says. "We were in the right place at the right time." Getting the license for a big game at the right time can be as valuable as a big movie, although "we give more value to a big movie because it's in the casual consumer's psyche: They could tell you the top two or three movies but not the top two or three games," McFarlane says. Metal Gear Solid 2 figures will ship in the fall.
Articulated action figures are not the only video game tie-ins. X-Concepts makes 57mm skateboards based on Activision's Tech Deck Skateboarding for Game Boy. The boards feature licensed designs from top deck manufacturers such as Toy Machine, Flip and Tony Hawk's Birdhouse. Each board includes a secret move to use in the game. "A kid can't buy 18 $50 boards, but he can buy all 18 Tech Decks at $1.99 to $2.49 each," says X-Concepts President Tom Davidson. Players collect new decks as they progress throughout the Activision game. X-Concepts simply provides the real world counterpart. The action sports industry needs to generate new graphics every six months or so, and just as kids like to come to school with a deck and graphic nobody else has, Davidson says, "it's cool for a kid to come in with a Tech Deck with a design nobody else has."
Games Workshop's game tie-ins take a different approach. SSI's PC versions of the company's tabletop wargames and miniatures, Chaos Gate and Rites of War, have helped the brands reach a new audience. Games Workshop inserted a card in the PC game boxes redeemable for a free issue of White Dwarf, the company's house publication, to expose people to its own merchandise. The PC games were modeled after miniatures the company was already producing. Late last summer, Games Workshop organized an extensive campaign on its Web site centered around several new characters which the company soon shipped to stores. New army sets for the campaign, such as the Steel Legion troops and new Ork warriors, followed. In the meantime, Ripcord Games will soon release Gorkamorka, a vehicle combat game amongst bands of rowdy Orks, for PC and consoles. Games Workshop is currently planning to launch another Web-based campaign this summer. Expect miniatures to follow.
The selection of video game tie-ins is wide this year. Playmates will ship 6- and 12-inch Lara Croft figures for the June Tomb Raider film, bbi has figures for Sony's upcoming 3D RPG Dark Cloud, SNK's The King of Fighters and Eidos' Soul Reaver, Diamond is distributing new figures for Namco's Tekken Tag Tournament, ReSaurus launches MechWarrior figures in July/August based on Microsoft's PC franchise and Bandai has a wide selection of Gundam models to go with its Journey to Jaburo and Zeonic Front titles for PS2 in May and October, respectively.
Perhaps the most ironic tie-in is Playing Mantis' line based on 3DO's Army Men franchise 6-inch figures based on a video game about the 1.5-inch green and tan army men kids used to wage war across living room carpets. "We could go after licenses for video games or old movies," says Playing Mantis President Tom Lowe. "Kids 6 to 18 years old are not watching old movies; they're playing video games."