Pixel Pin-ups
Phuze Magazine. Full copy follows the jpg of the opener. Copy appears as it was sent to the editor.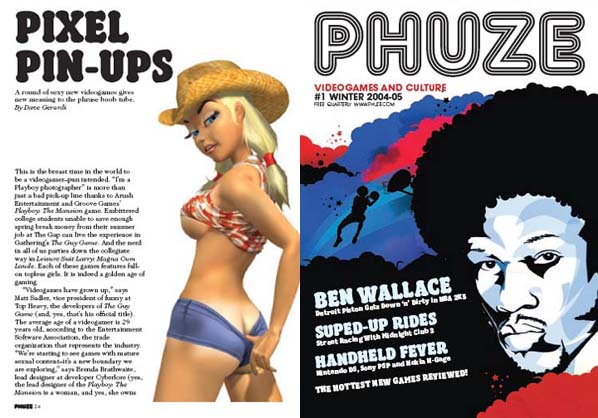 HED: Pixel Pin-ups
DEK: A round of sexy new video games gives new meaning to the phrase boob tube.
by Dave Gerardi
This is the breast time in the world to be a video gamer. Pun intended. "I'm a Playboy photographer," is more than just a bad pick-up line thanks to Arush Entertainment and Groove Games' Playboy: The Mansion game. Embittered college students unable to save enough money from their summer job at The Gap to go on Spring Break can live up the experience in Gathering's The Guy Game. And the nerd in all of us parties up the college life in Leisure Suit Larry: Magna Cum Laude. Each of these games features full-on topless girls. It is indeed a golden age of gaming.
"Video games have grown up," says Matt Sadler, vice president of funny at Top Heavy, the developers of The Guy Game (and, yes, that's his official title). The average age of a video gamer is 29 years old, according to the Entertainment Software Association, the trade organization that represents the industry. "We're starting to see games with mature sexual content?it's a new boundary we are exploring," says Brenda Brathwaite, lead designer at developer Cyberlore (yes, the lead designer of the Playboy: The Mansion is a woman, and yes, she owns more Playboy magazines than you do). There are a lot of games, she adds, where you might play a wizard in a dungeon and she's wearing a bikini, "and you think 'how does that fit in here?' In Playboy: The Mansion, it's in context. These things really happen at the mansion."
You play Hef, robe and all. Starting from modest beginnings, your goal is to build the Playboy empire from the ground up. Sounds easy, right? A couple of photospreads here, a celebrity interview there...and let's all go chill in the grotto. Game-wise it's not so simple. Your best photographer and potential centerfold aren't getting along. One of your girlfriends pissed off an A-list celebrity. And your editorial staff? They're a bunch of drunks and half-wits. Putting together a compelling issue takes a lot more Sims-style people management. It's time to strip off those Clark Kent glasses and don Hef's Superman robe. "Games give us the ability to live other lives," says Brathwaite. If you want to be a pilot, you can play a flight simulator. Likewise, Brathwaite says, "I don't know too many men who wouldn't want to be Hugh Hefner."
The Guy Game is essentially Jeopardy if it were played on the beach with topless girls and questions that can be answered halfway through a six pack of America's second least expensive beer. Sadler, who also hosted the game, spent an arduous 17 days on South Padre Island convincing young women to take off their clothes (don't let anybody tell you making games isn't tough work). It's a mistake, he explains, to take nudity and build a game around it. Top Heavy's goal was to create a fun game that a group of people could enjoy at a party. "We are pioneers."
The third game in this holiday season's topless trifecta is Vivendi Universal's Leisure Suit Larry: Magna Cum Laude. This is the most arcade-y of the three. Challenges involve a lot of cool little mini games like quarters and wet t-shirt contests in an effort to turn a lovable loser into big man on campus. Producer Josh VanVeld of High Voltage, the game's developer, insists he and his team didn't want the game to be gratuitous, "but the more is better philosophy won out."
Women aren't left out in the cold, developers insist. There is variety of gameplay in Playboy: The Mansion beyond the topless photo shoots, says Brathwaite. "There are different types of relationships you build and other goals like establishing the Playboy Foundation. As a woman I would not want to make a game I didn't want to play, and there are good looking guys in the game," she adds. Even the seemingly testosterone-fueled, Girls Gone Wild-inspired The Guy Game has crossover appeal. Women are competitive too, says Sadler. The game "appeals to their catty nature," he explains cheerfully. So if your significant other frowns at your choice of evening entertainment, just tell her she'll enjoy it because it appeals to her catty nature. Hopefully you'll have a couch to sleep on.