Love Bytes
A television sitcom pilot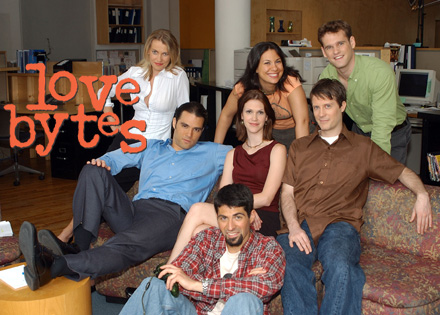 The Concept: Seven smart, sexy adults work together to produce video games, trying not to date, sleep with, or kill each other in the process.
The Story: The staff at Level 10 Inc., a New York-based video game maker, is thrown into turmoil when the talented but ego-mad boss, Ed Winter, hires a new programmer, Lucy Saunders. Lucy is well-intentioned and guileless, but Brian Bradley, a paranoid, drama-seeking game designer, is convinced she?s going to steal his job (and his fashion accessories). Game tester Mike Stafford instantly falls for the new girl and vows to win her heart (if he can survive his own danger-prone clumsiness), while Roy Williams, the It Boy, falls into an emotional tailspin when his not-so-secret past with Lucy is revealed. Can he scheme his way back into her life? Maybe Roy should focus on Vicki Storm, the office pet, who sudden finds herself in the middle of an unwelcome soap opera. Meanwhile, Nicole Barrow, the career-minded PR director, desperately tries to reign in these "children" long enough to achieve success and climb the corporate ladder. Just another day at Level 10.
The Pilot: The pilot episode of LOVE BYTES was an independent production shot on location in New York City. Creators Dave Gerardi and Peter Suciu co-wrote the book How to Break Into the Video Game Industry and have been published in dozens of magazines. The third member of the creative team, Frank Pittarese, hails from Marvel Comics, DC Comics and Nickelodeon. The cast members' credits include HBO's Sex in the City, ABC's All My Children, NBC's Another World, Law and Order, Sydney Lumet's 100 Centre Street, CBS' Hack, and The Tonight Show with Jay Leno.
Contact: Be specific in your email subject line. You can contact me with any questions or inquiries.