Autism: The Musical
June 2007, Spectrum Magazine. The film would debut on HBO in March 2008, but we covered it first almost a full year prior. Take that, Ebert! Full copy follows the jpg of the opener. Copy appears as it was sent to the editor. To print, cut and paste into Word or a similar program or else this page will use up all your black ink.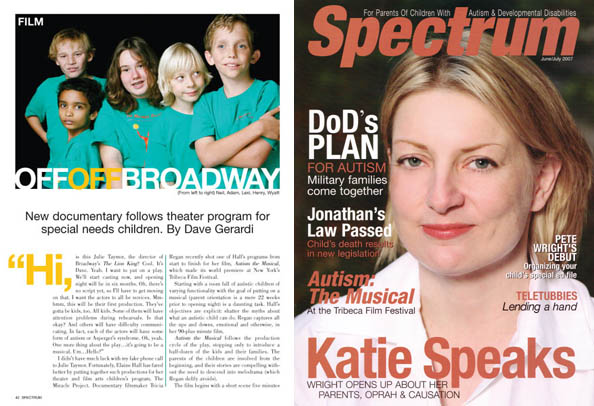 HED: Off-off-Broadway
DEK: New documentary follows theater program for special needs children
by Dave Gerardi
"Hi, is this Julie Taymor, the director of Broadway's The Lion King? Cool. It's Dave. Yeah. I want to put on a play. We'll start casting now, and opening night will be in six months. Oh, there's no script yet, so I'll have to get moving on that. I want the actors to all be novices. Mm-hmm, this will be their first production. They've gotta be kids, too. All kids. Some of them will have attention problems during rehearsals. Is that okay? And others will have difficulty communicating. In fact, each of the actors will have some form of autism or Asperger's syndrome. Oh, yeah. One more thing about the play?it's going to be a musical. Um?Hello?"
I didn't have much luck on the phone with Julie Taymor. Fortunately, Elaine Hall has fared better by putting together such productions for her theater and film arts children's program, The Miracle Project. Documentary filmmaker Tricia Regan recently shot one of Hall's programs from start to finish for her film, Autism the Musical, which debuted at New York's Tribeca Film Festival.
Starting with a room full of autistic children of varying functionality with the goal of putting on a musical (parent orientation is a mere 22 weeks prior to opening night) is a daunting task. Hall's objectives are explicit: shatter the myths about what an autistic child can do. Regan captures all the ups and downs, emotional and otherwise, in her 90-plus minute film.
Autism the Musical follows the production cycle of the play, stopping only to introduce a half-dozen of the kids and their families. The parents of the children are involved from the beginning, and their stories are compelling without the need to descend into melodrama (which Regan deftly avoids).
The film begins with a short scene five minutes prior to the opening curtain. Regan and her editor, Kim Roberts, reveal an atmosphere of nervousness and massive commotion. The project of mounting a play such as this seems impossible. During the next hour and a half, we learn why it isn't.
With very little budget to work with, Regan shot the film herself, except for the performance night when she used four cameras. She wound up with 200 hours of footage. Putting the movie together was "like a Rubik's Cube," she says. Regan and her editor constantly asked themselves, "What is the magic combination of scenes that's going to make this movie hold?" The first cut was four and a half hours. From there she began narrowing the focus on a select number of kids. Not surprisingly, she occasionally had to cut otherwise revealing footage.
She recalls a moment with Lexi, who has echolalia. Lexi often recited the names of the people in The Miracle Project and in her own life. "There's Henry, there's Jacob, there's Bradley (her father), and Bradley is the dadly," Lexi said in the cut scene. Regan laughs while recounting the story. "When you spend time with an autistic person, it challenges your idea of what a person is. Their neurology has such an effect on their ability to communicate and reveal themselves, but there's a spirit in there can override the brain function at times and reveal intelligence and personality. Lexi, for example, has a great sense of humor, but she has such a challenge communicating her own thoughts."
Hall, whose adopted son Neil is a low-functioning autistic, started The Miracle Project specifically for special needs children. Prior to filming, the plays she had produced had allowed kids to record performances at home with their parents. "No, you're not going to do that" Regan told her. She challenged Hall to do it all live.
One of the tests Regan faced while shooting was the kids themselves. "You have to be very generous and very patient," she explains. "Let them know they're safe. When they're ready to talk, you'll be there to listen." Regan always had the camera with her so that any child who talked to her would also talk to the camera. "I knew right away the film would succeed or fail based on what these kids were going to do on camera," she adds. Because she always had the camera with her, it never became an issue. "I have to give the parents a lot of credit. It was very courageous, and they did it because they want a better world for their kids." During filming, Hall ran a second, alternate play for parents who didn't want to be involved.
The interviews with the kids are often the most riveting of the film. Henry is the son of Steven and Kristen Stills (the same Steven Stills of Crosby, Stills and Nash) and has Asperger's. He is obsessed with reptiles and dinosaurs. Wyatt is another high functioning child. He has perhaps the most self-aware discussion about autism: "You're in your own world. You're not talking to anybody. There's no point to it. You're not going to make friends." He explains how he can see Henry going into his own world when reciting facts and talking about dinosaurs. He even knows when and why he goes into his own world. "Sometimes I don't have anybody (else) to talk to." On camera, Lexi's mom, Hilary, asks her daughter for the first time if she knows what autism is. "Autism is when something is damaging," Lexi types on her computer.
To Regan's credit, the mushy moments are played straight without any melodramatic nonsense. "If you do your job well, there's no reason to bring in the violins," she explains. "Less is more." The drama is balanced with lighter moments. For every marital difficulty that crops up mid-production (one, in particular, is a biggie), there is a small victory for one of the kids, be it learning a new song or learning to work as a group with other children.
During the parent orientation, Hall promises only that the "first couple of weeks will be chaotic." Up until opening night, I suspect most viewers will doubt that it will ever come together. But that's the point.